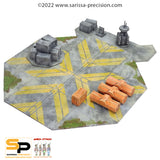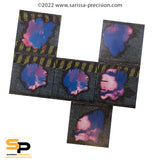 Place these two rivers of lava 2" wide to form an X across a 3' x 3' table. Set down your crew amongst the ruins of a research station and volcanic rock and grab whatever cutting-edge tech you can find. Should be easy enough...?

Laser-cut MDF topped off with a smooth satin finish
Templates for the game Stargrave will also be perfectly useable for any other Sci-fi style game system.
Set includes the following:
14x lengths of lava

1x lava crossroads

4x lava creatures
Features:
Smooth satin finish

Laser-cut MDF
Full-colour printed original artwork
Size
2x straights 50mm (2") wide x 90mm (3&1/2") long
12 x straights 50mm wide x 125mm (5") long
the cross template is @7&1/2" (190mm) wide
lava creatures are 28mm in diameter
More from this collection