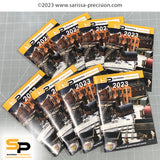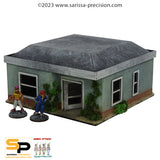 Trench Systems, the fallback for infantry protection from the dark age of warfare to the modern day.
Dig deep and throw the earth high! Add your sandbags and Barbed Wire barricades - Simple to construct and quick to set up for your next battle scenario, these trenches are an ideal fortification to present the trench warfare of WWI and other theatres of war in general.
The Trench System is scaled to fit 20mm, 28mm and even 32mm scaled figures. The set has 18 trench lengths, 1 firing position and barbed wire. Most trench pieces measure approximately 10cm x 10cm giving you close to two meters of Trench (which can be laid out close to a straight line to cover 190cm, over 6ft).
Each trench section can be separated into two halves, providing plenty of opportunities for adaptation.
Includes:
4x Trench Straights
1x Trench Firing Position
2x Trench T Sections
4x Trench Corners
4x Trench Angled Corners
2x Trench Entrances
2x Trench Dead Ends
10 Hedge Hog type barricades
10 lengths of 8cm long barbed wire type barricades
5 meters of barbed wire!
Supplied unassembled and unpainted in kit form with full instructions.

Any models or accessories shown are for scale purposes only and are not included.

Dimensions

Individual parts vary L100 x W100 x H28mm (approx.)


1 set can complete a single line up to 5ft long

Product Features
Laser-etched detailing
Material(s)
MDF, & Greyboard
wire
Twitter
More from this collection