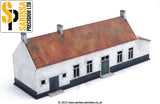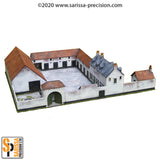 Papelotte Farm formed part of the advanced defensive positions toward the centre-left flank of the Duke of Wellington's army at Waterloo on the 18th of June 1815.
As the battle raged men of the King's Dutch Brigade defended until their ammunition ran out. Although the French would finally take the position late in the day, within a few hours it was back in Prussian hands.
Papelotte Farm although damaged and partially burnt down still stands today and is now the home of the Poney club de la Papelotte.
The Sarissa Precision Papelotte Farm set is perfect for Napoleonic games such as General De Brigade, Le Feu Sacre, Black Powder, Chosen Men, Silver Bayonet or Shako. In fact, the farm and buildings are representative of many similar farms in the region and will work perfectly for many World War Europe period locations.
Supplied unassembled and unpainted in kit form with full instructions.

Any models or accessories shown are for scale purposes only and are not included.

Dimensions
L450 x W500 x H180mm (approx.)
Product Features
The farm can be broken down into separate sections and used as individual buildings.
Laser-etched detail.
Materials
MDF & Greyboard
Contents
1 x Belgium Walled Farm
Twitter
More from this collection