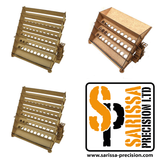 Able to hold over 70 pots of paint (or basing materials, glues, etc), it keeps everything all in one place - no more searching all over for that one elusive paint pot!
Every gamer needs somewhere to store their paints for ease of access and this laser-cut MDF paint rack has been specially designed by us to hold all popular paint bottle sizes such as Army Painter, Vallejo, Citadel and Tamiya.
The two optional side tidies will fit at least twelve brushes, sculpting tools or other utensils. It can also be used with our Hobby Drawer System for extra storage without taking up your entire hobby area. We also have our Small Paint Rack if you needs a little more space for 'bitz' and tools and not so much for paint.
The dimensions are:
Height: 295mm
Width: 308mm
Depth: 210mm
Models supplied unassembled and unpainted, Paint and Brushes are NOT included
More from this collection