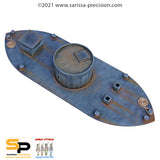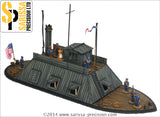 Developed in the second half of the 19th century, the Ironclads were intended to negate the vulnerability of wooden warships to explosive or incendiary shells. The resulting warships were steam-propelled and sported hulls protected by iron or steel armour plates. They were used extensively by both the Union and Confederate navies in the American Civil War,
In an epic clash of iron and steam, two ironclads changed the course of Naval warfare. It was March 9, 1862 off Hampton Roads, Virginia. In a 4 hour long clash The U.S.S. Monitor and the C.S.S. Virginia slugged it out but neither could penetrate the others armour.
These ships are a great addition to any 12 to 15mm scale ACW game table.
Supplied unassembled and unpainted in kit form with full instructions.

Any models or accessories shown are for scale purposes only and are not included.

Dimensions
L250 x W80 x H65 mm
Product Features
Etched detailing


Material
MDF
Contents
1x ship
Twitter
More from this collection