The Ruined City - Level 1 Tower Corner with Window and Walkways (stackable)
SHIPPING & DISCOUNT CODES CALCULATED DURING CHECKOUT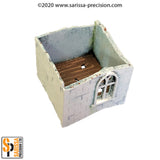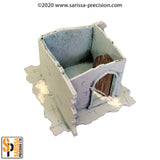 The Level 1 Tower Corner with Window and Walkways helps provide new levels and access for your buildings. Stack each one on another or on a ground-level tower and go as high as you want.

This set contains;

Level 1 Tower Corner with Window and Walkway
The Level 1 Tower Corner is just one part of a much larger collection first revealed in the Chapter Two starter set that can be found here: The Ruined City.
With its unique modular system and evocative design, The Ruined City can be used to create the intricate streets and galleries of Frostgrave II, Osgiliath or the bleak and open ruins of Kings of War, Oathmark and Warlords of Erehwon.
This is just the beginning of your exploration of The Ruined City.

More from this collection