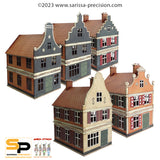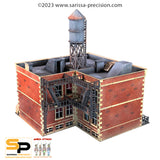 Fitted with a single mast and a square-rigged single sail and measuring 15 to 25 meters (49 to 82 ft) in length with a beam of 5 to 8 meters (16 to 26 ft) they were widely used during the 12th Century as trading vessels.

One such Cog, outfitted for war and provided by the Earl of Pembroke, grappled the French flagship during the Battle of Sandwich (24th August 1217). The resultant capture of the French commanders' Admiral Eustace the Monk and Robert I (the younger son of the emperor Peter II of Courtenay) meant the defeat of the French armada and ended Prince Louis's attempt to conquer England.
We have added a post on how to add rigging to your Cog HERE.

 
Supplied unassembled and unpainted in kit form with full instructions.

Any models or accessories shown are for scale purposes only and are not included. Thread rigging not included

Dimensions
L300 x W100 x H260mm (inc masts and bowsprit)
Product Features
Laser-etched detail
Materials
MDF
Greyboard
Contents

1x Cog

Twitter
More from this collection