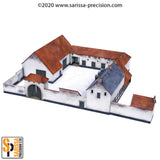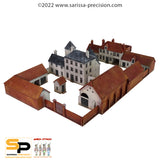 La Haye Sainte, positioned at the foot of a rolling escarpment, protected the Duke of Wellington's centre at the Battle of Waterloo on the 18th June 1815.

This vital walled farmhouse compound was defended by some 400 British and German troops who crucially held out against the vast numbers of French till the late afternoon.
The hopelessly outnumbered men fought till they expended their last bullet then retreated as Marshal Ney, heavily supported by artillery, led a furious assault with the 13th Legere and a company of engineers. The French were finally able to take the position, but ultimately it was too late in the day.
The defence of the farm denied Napoleon this valuable strategic position and allowed Blücher and the Prussian army time to arrive and lend vital assistance to Wellington.
The Sarissa Precision La Haye Sainte set is perfect for Napoleonic games such as General De Brigade, Le Feu Sacre, Black Powder, Chosen Men, Silver Bayonet and Shako. In fact, the farm and buildings are representative of many similar farms of the region and will work perfectly for many 18th to 20th century World War Europe locations.
Supplied unassembled and unpainted in kit form with full instructions.

Any models or accessories shown are for scale purposes only and are not included.

Dimensions
Approximately L460 x W460 x H150Hmm for main complex plus the buttery which extends frontage by 160mm (620mm)
Product Features
The kit can be broken down into separate pieces and used as individual buildings
Laser-etched detail, removable roof
Materials
MDF
Greyboard
Contents
1 x

La Haye Sainte

farm
Twitter
More from this collection