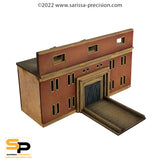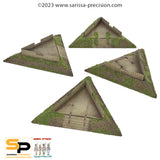 From the time of the first Starforts built by France Spain and Great Britain to the American Civil War, America's coastal defences had seen three phases (systems) of construction.
System One forts were built by French engineers on the old and well-tested designs. Second system forts followed on with similar designs but were now built by fully trained American engineers. In the war of 1812, many of these Starforts (by now old and degrading) showed their worth - action at Fort McHenry inspiring a national anthem!
The third system included new brick forts with nearly 42 eventually being completed by 1874. These stone and brick forts stretched from New England to the Florida Keys, and as far as the Mississippi River. At the start of the war some were located in the secessionist states, and many fell into Confederate hands. Although a handful of key sites stayed in Union hands throughout the war, the remainder had to be won through bombardment or assault.
Fort Pulaski, on which we've based our brick fort, played a crucial part in the course of the Civil War and is just one of the nearly 30 Third System forts that still exist as museums or national monuments along the Atlantic and the Gulf Coasts.
This complete fort set includes:
1x 15mm ACW Brick Fort Gate Wall - M548
2x 15mm ACW Brick Fort Barracks Wall - M547
2x 15mm ACW Brick Fort Castmate Wall - M546
2x 15mm ACW Brick Fort Bastion Corner - M549
1x 15mm ACW Brick Fort corners (x3) - M551
Supplied unassembled and unpainted in kit form with full instructions.

Any models or accessories shown are for scale purposes only and are not included.

Dimensions
W400 x D400 x H70 mm (approx.)
Product Features
etched detailing, modular walls
Material
MDF
Contents
1 x Third System ACW Brick Fort
Twitter
More from this collection