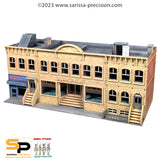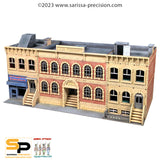 City Block: Commercial Bank is an ideal starter street for any burgeoning city planner. These townhouses are residential properties with a small footprint and multiple floors and will look great with the addition of fire escapes and aircon unit accessories.
Meanwhile, the Commercial Bank with its interior detail and working safe, is an ideal centrepiece for your scenario action!
This series of versatile kits are perfect for tabletop games with settings and genres as varied as pulp, superheroes, alien invasion, alternative history Cold War / WWII, post-apocalyptic and many more.
Combine this set with more from our expanding CityBlock and Retro Americana lines to create a varied and dynamic gaming table or diorama.
Supplied unassembled and unpainted in kit form with full instructions.

Any models or accessories shown are for scale purposes only and are not included.

Dimensions
Approximately W400 x D180 x H180mm
Product Features
Laser etched detail
Stackable floors, removable roof
Material
MDF & Greyboard
Contents

1 x Residential house, ground and 1st floor with roof
1 x Residential Shop, ground and 1st floor with roof
1 x City Block: Commercial Bank, ground and 1st floor with roof

Twitter
More from this collection