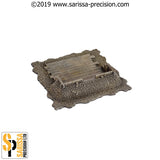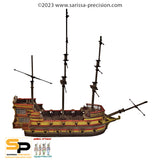 The might of the Royal Navy, this 24-gun two-deck ship can easily represent a 5th/6th Rate Frigate or Ship of the Line on your tabletop!
Fighting in a port or from deck to deck off-shore, this ship is ideal for the task. It comes with a removable quarterdeck and forecastle allowing access to the main gun deck. You can also remove the top gun deck allowing access to the lower gun deck too.

Time to set your sails and take the battle to the High Seas!
Enter the battle on your tabletop for games such as Blood and Plunder, Frostgrave: Ghosts of the Archipelago or Black Powder era Napoleonics. Be it sailing the high seas to gather a Corsair's bounty, or heaving too and boarding the enemy galleon in search of treasure this is your ultimate centrepiece.
Full instructions are included and drop-down options are available for equipping with 24 cannons!
Supplied unassembled and unpainted in kit form with full instructions.

Any models or accessories shown are for scale purposes only and are not included. Thread rigging is not included

Dimensions
L570 x W135 x H530mm (inc masts and bowsprit)
Product Features
Laser-etched detail
Materials
MDF
Greyboard
Contents

1 x tall ship with optional choice to add gins

Twitter
More from this collection