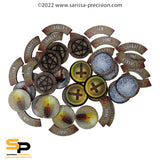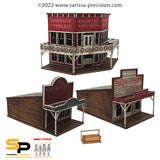 YeeHa! Gather up your posse and track down these full-colour Double-sided action-packed tokens perfect for Wild West games such as Fist Full of Lead, Dead Mans Hand, Malifaux and Wild West Exodus. Set up your High Noon shootout in style...
This set contains 25x double-sided 20mm game tokens:
5x Silver Dollar / Bullet(Ammo)
2x TNT / Crosshair
2x Drunk Markers - Red Ace / Black Ace
5x Footprint markers - 1 / 2
3x

Footprint markers - 1 / 3

5x Bullet Wound markers - 1/2

3x Bullet Wound markers - 1/3
Plus: 1x ruler with 4x 1" and 10x 1cm notches.
Supplied unassembled and unpainted in kit form with full instructions.
Any models or accessories shown are for scale purposes only and are not included.
More from this collection