Full Set (60 pots) of Duncan Rhodes - Two Thin Coats Wave 2 Paints plus Paint Rack
SHIPPING & DISCOUNT CODES CALCULATED DURING CHECKOUT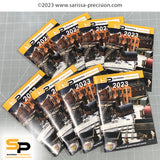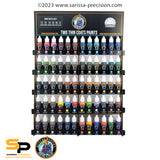 We are proud to present in stock, our collaboration with Duncan Rhodes and Trans Atlantis Games, the Two Thin Coats Full-Colour Paint Rack, complete with all 60 colours! THIS IS FOR A FULL SET OF WAVE 2 PAINTS
This Item is available today and in stock
*discounted deal price reverts to standard rrp at the discretion of Sarissa Precision
Includes:
x60 colours (WAVE 2)
x1 Full-colour paint rack
PLEASE NOTE COLOUR CHARTS ARE NOT INCLUDED AND FOR REFERENCE ONLY. THIS DEAL IS FOR PAINT (x60 pots) AND RACK (x1) ONLY.
Discover the brilliant coverage of the Two Thin Coats range and Duncan's plans to expand the content here: https://www.duncanrhodes.com/ttc-paints/
Over to Duncan: "The Duncan Rhodes Painting Academy 'Two Thin Coats' Paint Range is a range of paints developed from the ground up with some of the best paint development chemists in the world. These are not paints we just bought off the shelf and bottled. We developed each colour to meet our high standards of what we thought a miniature paint should be. We have been working in partnership with Trans Atlantis Games to create a set of paints that would be useful to any level of hobbyist. Whether you are a beginner or a seasoned painter, we believe that you'll find using these paints an absolute joy to use!
We also wanted a standout display in our stockists as well as one available for everyone who has supported us by grabbing a set, we turned to specialists Sarissa Precision who have delivered a superb full-colour desktop paint rack to keep things nice and neat!
We are both extremely excited for hobbyists around the world to get their hands on these paints and to give them a whirl…or to apply two thin coats!"
Simple and effective the Sarissa Precision official Two Thin Coats Wave 2 paint rack holds all 60 of the first set of paints with the colour-coded information printed in full colour to make sure everything sits neatly in place.
The dimensions of the rack are:
Height: 495 mm
Width: 370 mm
Depth: 120 mm
Supplied unassembled
More from this collection