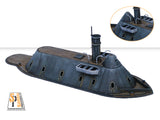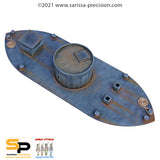 An iron-hulled steamship built during the American Civil War, the USS Monitor was the first such ironclad warship commissioned by the Union Navy.
In an epic clash of iron and steam, two ironclads changed the course of Naval warfare. It was March 9, 1862 off Hampton Roads, Virginia. In a 4 hour long clash The U.S.S. Monitor and the C.S.S. Virginia, slugged it out to but neither could penetrate the others armour.
These ships are a great addition to any 12 to 15mm scale ACW game table.
Supplied unassembled and unpainted in kit form with full instructions.

Any models or accessories shown are for scale purposes only and are not included.

Dimensions
L210 x W75 x H50 mm
Product Features
Etched detailing


Material
MDF, card & 3mm wood dowl
Contents
1x ship
Twitter
More from this collection