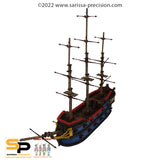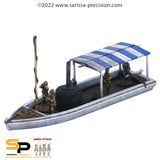 Head across Lake Erie on the U.S. Brig Niagara, raise your battle flag and prepare for close action!
Built as a Snow (a square-rigged vessel with two masts, complemented by a snow- or trysail mast stepped immediately behind the main mast) US Brig Niagara was built in 1813 to protect the vulnerable American coastline on Lake Erie from the British.
Niagara became the Flagship of Oliver Hazard Perry during the Battle of Lake Erie when he transferred his flag from the near out-of-action Lawrence. Having taken command of Niagara he manoeuvred to cross the T of the British line, firing broadsides into three British ships and eventually forcing two and consequently the British fleet, to surrender.
Enter the battle on your tabletop for games such as Black Powder, Frostgrave: Ghosts of the Archipelago or Blood and Plunder.
Full instructions are included and drop-down options are available for equipping with 18 carronades and 2 long guns!
Supplied unassembled and unpainted in kit form with full instructions.

Any models or accessories shown are for scale purposes only and are not included. Thread rigging is not included

Dimensions
L530 x W170x H340mm (inc masts and bowsprit)
Product Features
Laser-etched detail
Materials
Ship - MDF & Greyboard
Guns - 3d printed in grey ABS-like resin
Contents

1 x Brig with optional choice to add guns

Twitter
More from this collection