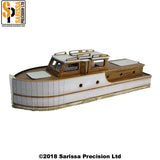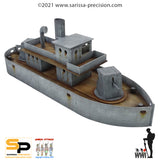 A perfect harbour for any fleet, return from action to your safe harbour and a hot mug of tea before re-fueling and arming and on to your next mission.
This kit comes with 2 cranes, 4 jetty's, set of steps and a warehouse, all in a scale of 1:300th for ship battles such as Cruel Seas
Supplied unassembled and unpainted in kit form. Requires assembly and comes with full instructions. Any models and accessories shown are for scale purposes and are not including.
Dimensions

Jetty's W20 x L100 x H5mm (approx.)

Main Dock W260 x D110 x H15mm (approx.)

Product Features
Etched detailing
Material(s)
MDF
Greyboard
Contents
Twitter
More from this collection