FREE: Greco Roman Ring Temple - A Simple Painting Guide
SHIPPING & DISCOUNT CODES CALCULATED DURING CHECKOUT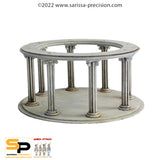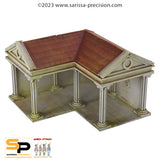 FREE: Greco Roman Ring Temple - A Simple Painting Guide
This is a quick paint and terrain guide that aims to show how a few simple techniques and a few materials can create a really immersive piece of terrain. In fact, a small diorama that can be used for gaming or just look nice on the shelf.
Discover the clump foliage used baby visiting the Hobby Resources Collection.
Gary Faulkner is head of the design department at Sarissa Precision and both he and the design team work hard to turn ideas and concepts into reality.
He is also responsible for most painted kits on the Sarissa Precision website.

This PDF guide comes from a series of award-winning articles on working with MDF for the international magazine Wargames Illustrated, so he knows what he's talking about. This guide has been created to give you the quickest results with minimal effort whilst using easy-to-source supplies.
More from this collection