Ancient Americas - Village Set (28mm)
SHIPPING & DISCOUNT CODES CALCULATED DURING CHECKOUT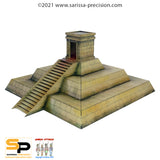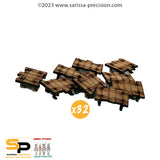 Welcome to the village, where you will discover the Elder's house steeped in the lore and wisdom of this land. Explore the village houses for hidden treasures and gather your team in the Community House for a communal meal after a long day investigating the ancient pyramids... Perfect for Pulp gaming adventures in the jungles of South America.
Each building comes with a removable card roof and this set even includes the kitchen scouring pads we use as Thatching material!
These structures are ideal representations for civilisations such as the Inca, Wari, Tiwanaku, Nasca, Zapotec, Olmec and Maya.
Includes:
1x Ancient Americas Community House - MA04
2x Ancient Americas Village House - MA05
1x Ancient Americas Village Elders House - MA06
5x sheets of kitchen scouring pads - thatched roofing material - SPH001
Thatched roof free guide
If you've not seen our blog section then follow this link for a simple and effective guide to making and painting your Thatched roof material... BLOG Post Guide
Supplied unassembled and unpainted in kit form with full instructions.

Comes with a card roof and thatched roofing material.


Any models or accessories shown are for scale purposes only and are not included.

Product Features
Etched detailing


Material
MDF, Card
Contents
4x buildings and thatching material
Twitter
More from this collection